last updated: 2012-12-12
jDBexport - quickstart guide
This document provides a very basic HowToGetStarted instruction to jDBexport. This documentation is written to the best of our knowledge, but if you spot mistakes please inform us (and we will correct them). This quickstart guide shows you how to setup and configure jDBexport in a step by step approach. Let us assume the following conditions: We run an averagely complex website, including a calendar (JCal PRO), where people can register for our events, an image gallery (PhocaGallery) where our events are documented. We want to get actual data reports out of our website database.
We have set up our DEMO website accordingly, to make it easier for you to understand these instructions. If you need more detailed information, please refer to our jDBexport user guide. For any questions about this guide or the jDBexport component, please contact us .
Table of content
Step 1: Installation
The installation is straightforward. We packed the component, the backend module, the frontend module and the datagrid plugin into one single installation package, which we downloaded from our website.
We navigate to the [Extension Manager] in the Administration backend of our website...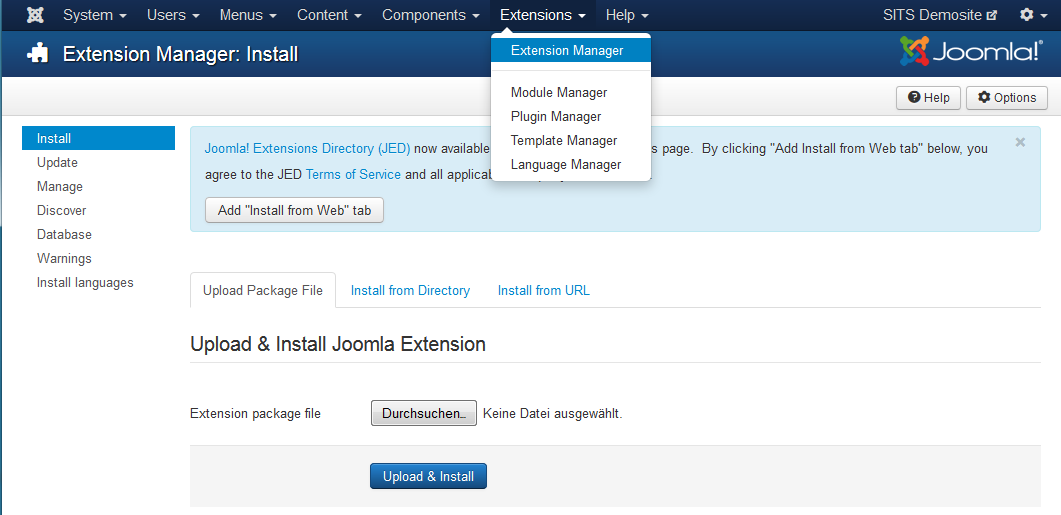 and [Upload and Install] the jDBexport Package File (filename something like pkg_jdbexport.V3-0-2.zip). This will install the component, create the components menu entries, install the backend module, install the frontend module, install the datagrid plugin.
Step 2: Languages
jDBexport supports multiple languages (to help us increasing this support, please join our translation project at TRANSIFEX.com). The installation of additional languages is straightforward. We packed all available languages into one single download file, which we downloaded from our website. First we unzip this download file to a local directory on our computer. After unzipping, we will find all available language packages as installable packages in the local directory.
Now we navigate to the [Extension Manager] in the Administration backend of our website...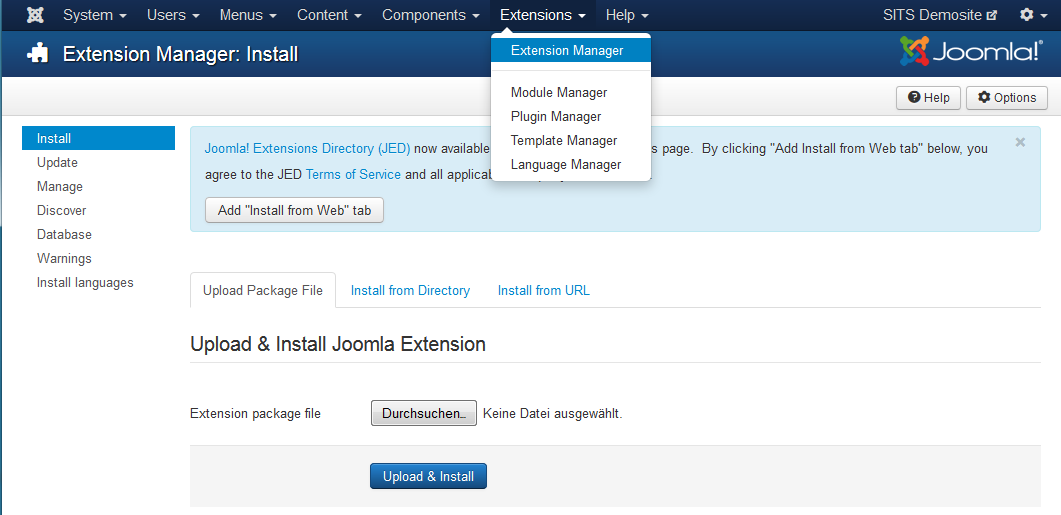 and [Upload and Install] each desired Language Package File (filename something like lng_jdbexport.de-DE.V3-0-2-1.zip). This will install the language package for the component, the backend module, the frontend module and the datagrid plugin.
Step 3: Configuration
jDBexport uses a wide varity of configuration options. This options are accessible through the components toolbar button [Options].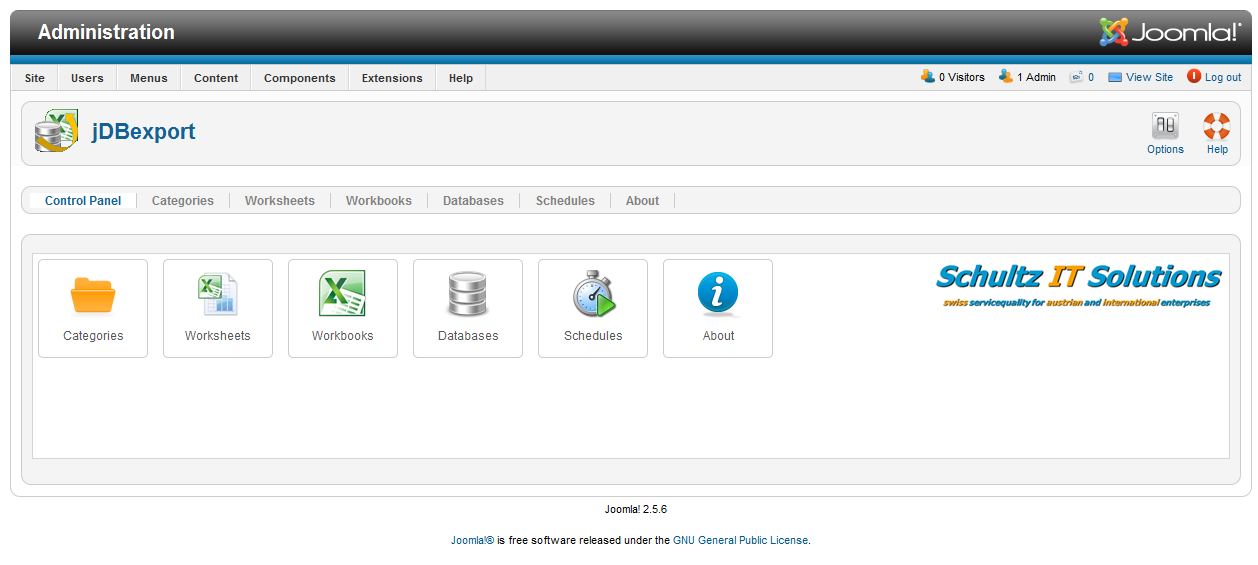 The best way to avoid unexpected behaviour is to browse through all options tabs and save-change-save the options you need. We here very briefly describe the most important options only, a full description is available in our user guide.
General
Check SQL: activate this one!
Show download button (in preview mode): activate this one!
Writers
leave the options as they are by default
Categories
Worksheets
set every option to YES, except the "Live syntax check"
Workbooks
leave the options as they are by default
Step 4: Categories
For the beginning we will only need a single jDBexport category. We navigate to the [Category Manager] ...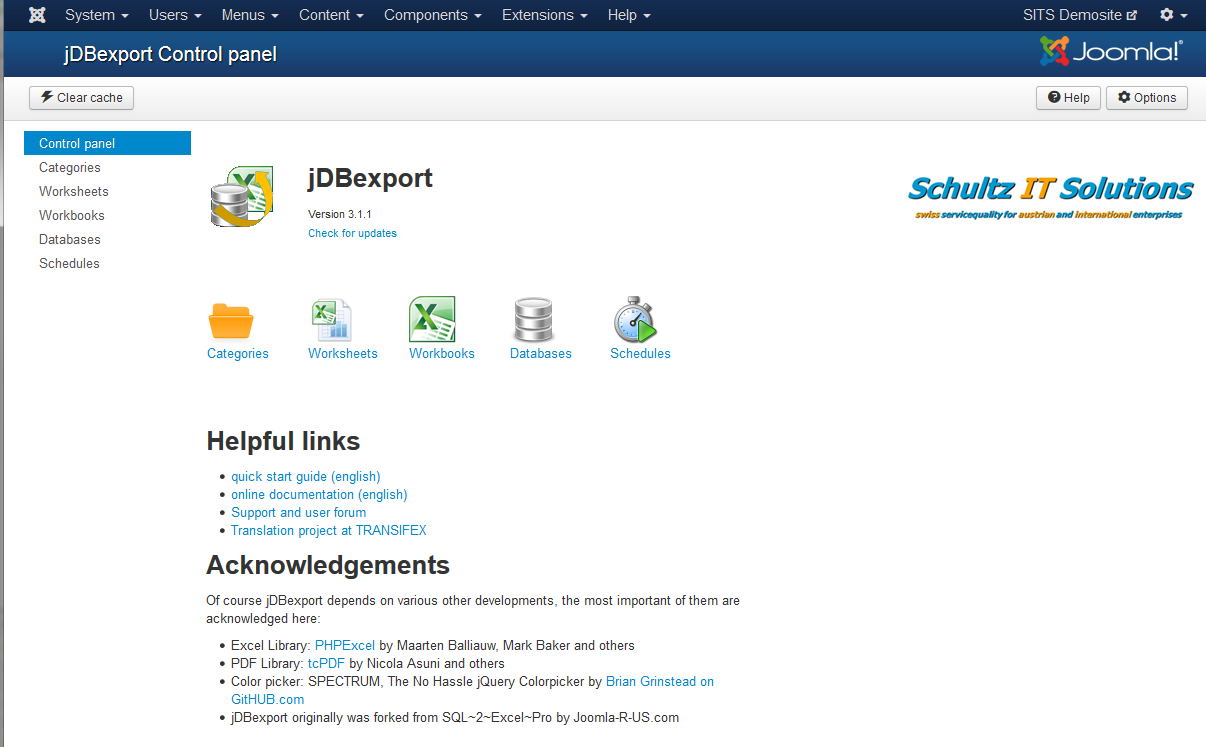 and create a new category (we only fill out title, alias and description) and leave the rest to the default values.
Step 5: The first worksheet
To start using jDBexport, we will create a very simple worksheet. We navigate to the components [Worksheets] page...

and create a new worksheet. To begin, we only need a title and the SQL query, all other parameters could be considered "advanced usage" and are described in our user manual. As title we use "Quick start guide example" and the SQL query should return a full list of all JOOMLA categories in the database (" select * from #__categories "). The table prefix " #_ " will be replaced by the actual table prefix in your database. To see this table prefix, go to the [Server] tab in the JOOMLA global configuration and have a look at the [Database settings].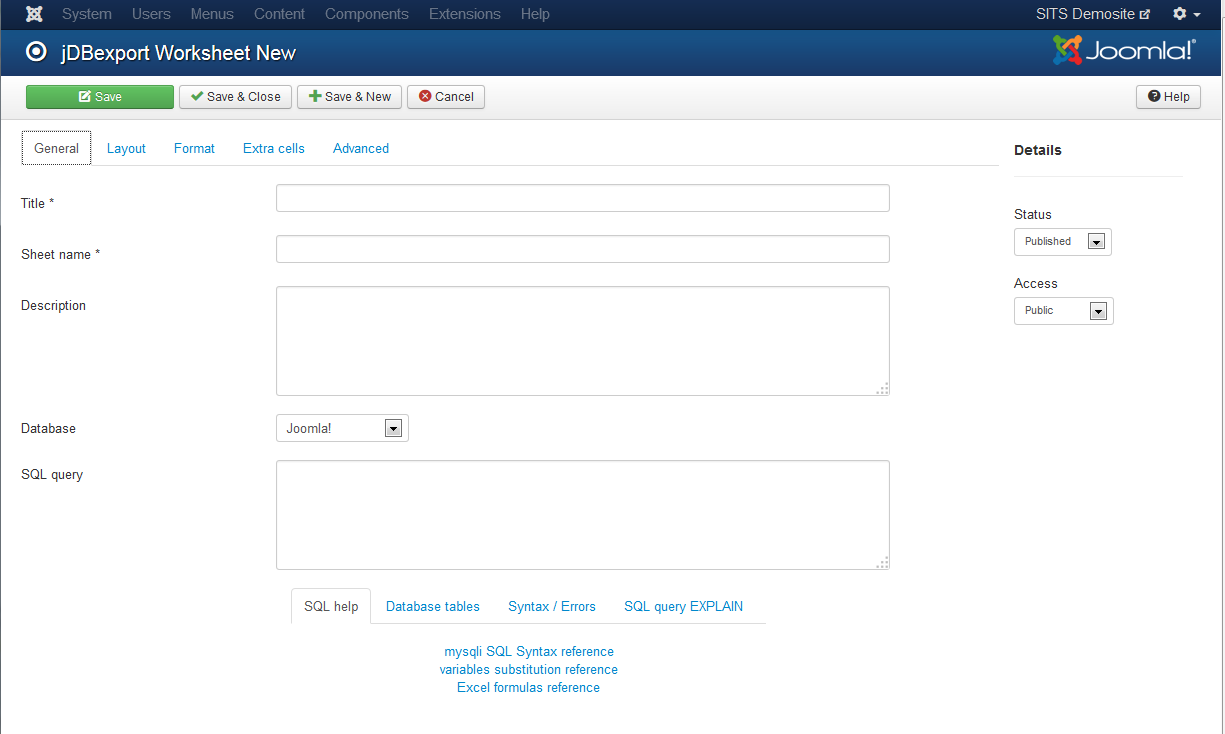 We can check the SQL query for errors with the Check Syntax function below the SQL query field (in this screenshot, we use an invalid table name to demonstrate this). If the syntax check does not show any errors, we save the worksheet.
Step 6: The first workbook
Now we will create a workbook with this single worksheet in it. We navigate to the components [Workbooks] page...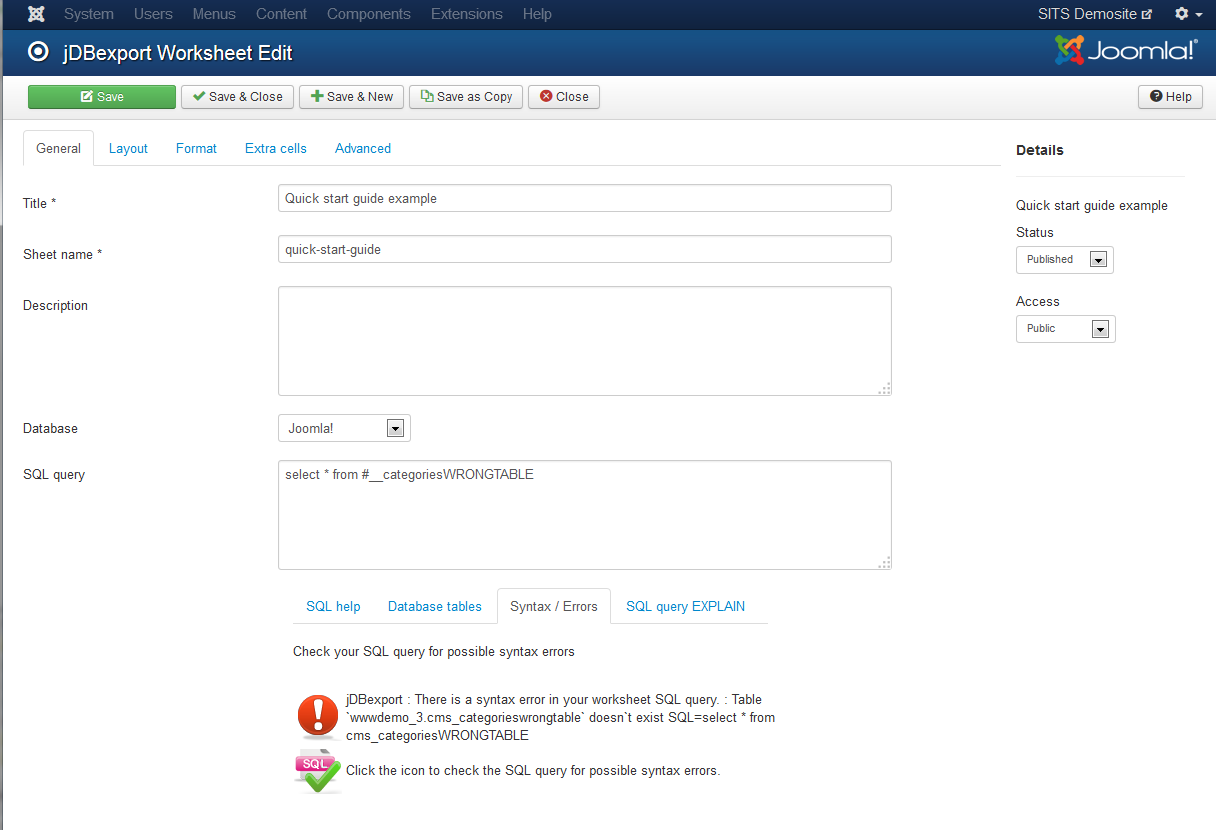 and create this new workbook. On the [General] tab only title, link title, filename and category are required, so we only fill out these fields and let the rest to default values.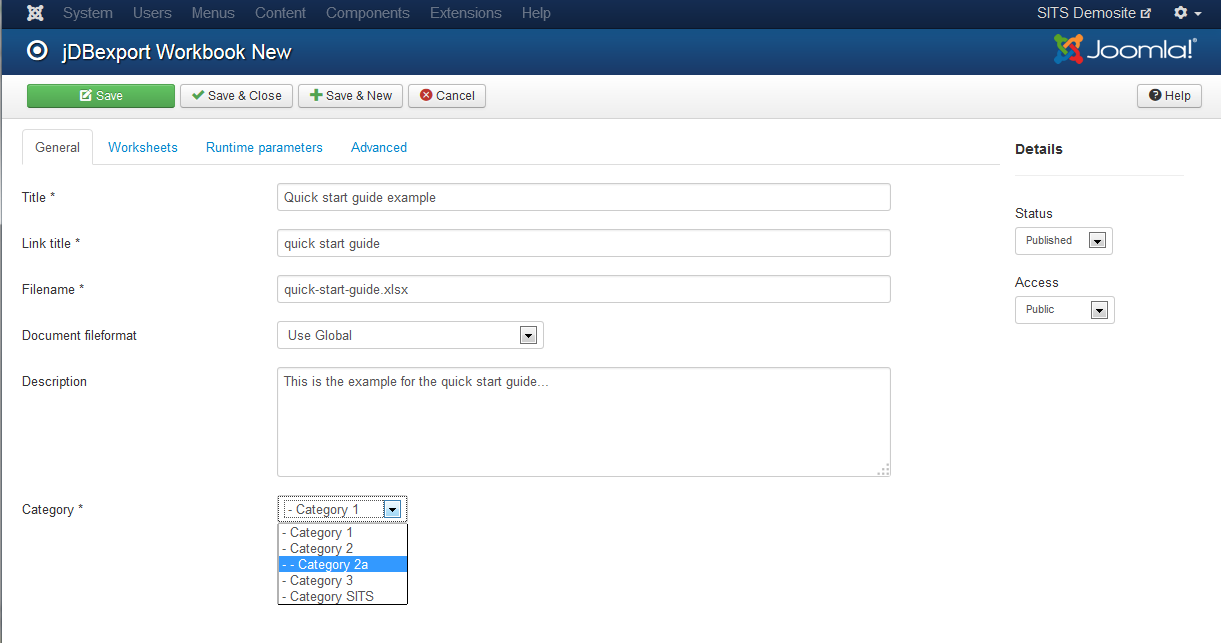 on the [Worksheets] tab, we activate the worksheet we want to be included in this workbook (the Quick-Guide worksheet we just created).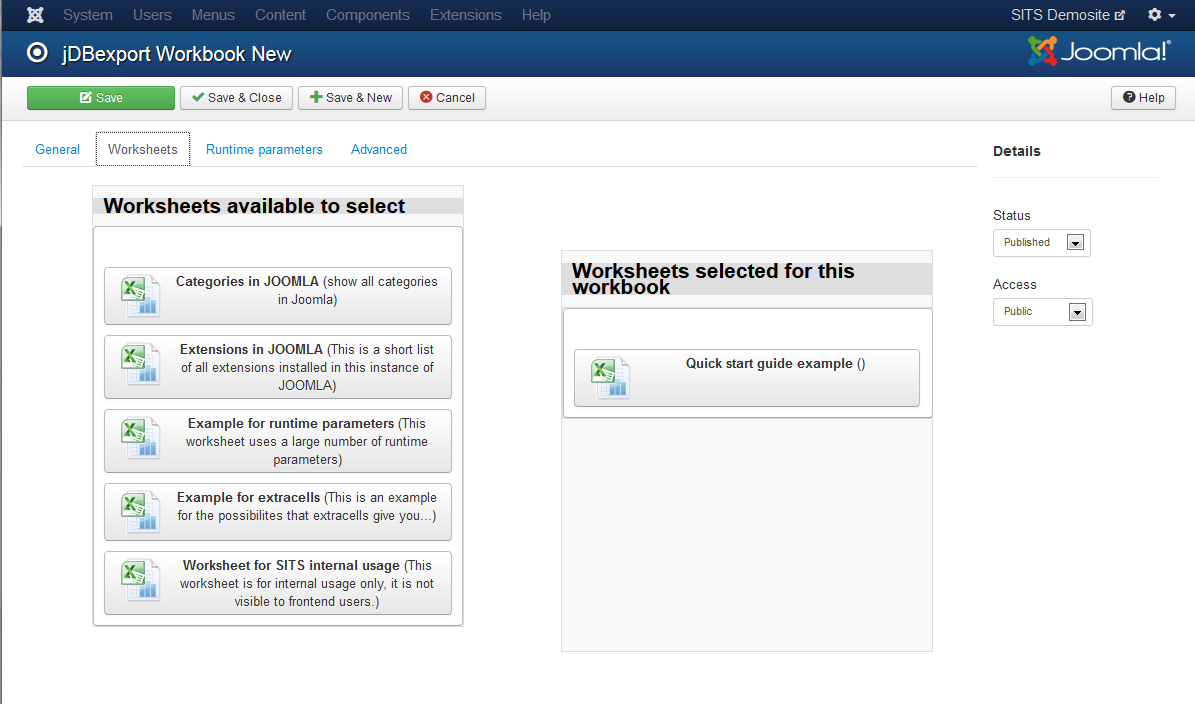 and we [save & close] this workbook. Returning to the [Workbooks] page, we already can download the newly created workbook with it's worksheet.
Step 7: preparing the frontend
For the frontend jDBexport has two menue items to be configured:
Show (nested) jDBexport categories
Show documents in jDBexport category
As we only have one single category (for now), we only need the second menue item. We create this new menue item in the JOOMLA [Add new menue item] dialog. It shows a table of (accessible) documents within our jDBexport category (we selected this in the menue items required settings).

This view allows the user to either preview or download the available documents. The preview creates the selected document and directly shows a limited number of records in a simplified layout.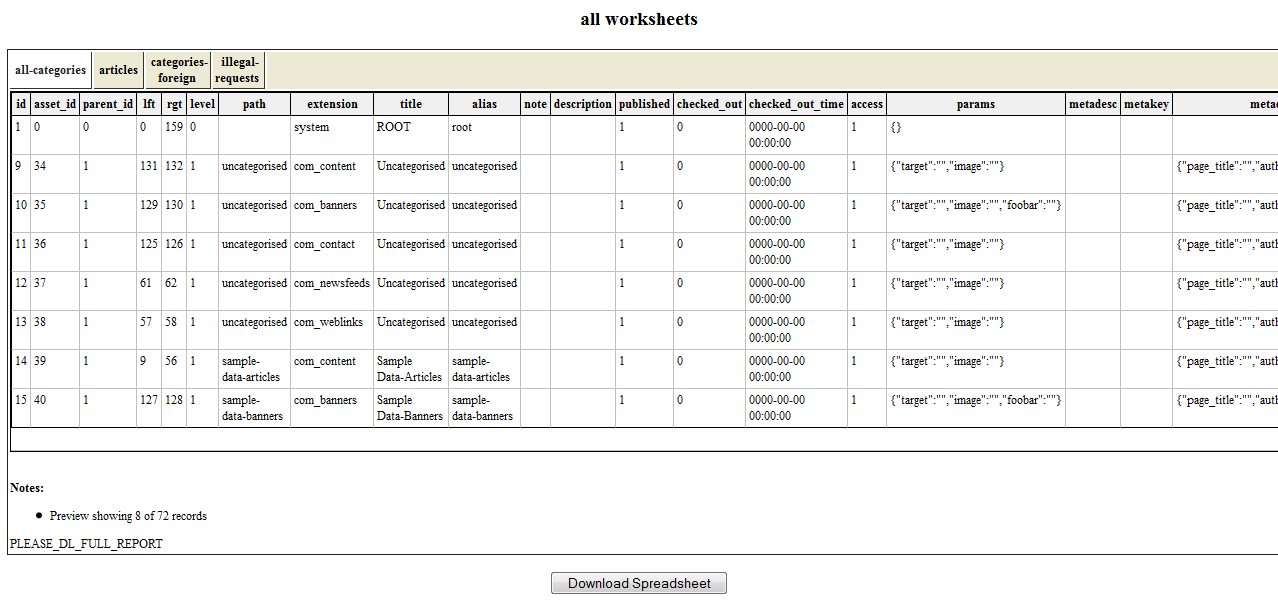 Step 8: contiuing from here?!
This is, as mentioned before, only a very brief instruction on how to get started with jDBexport. But there is a whole lot more to discover in this product. Just let us name a view...
Worksheet formatting with colors, fonts, fontsizes, image (logo) inclusion
dynamic SQL queries based on VARIABLES (user depending, ...)
create Excel formulas in resulting reports
indivudalise worksheets by asking the user to submit parameters before generating the Excel workbook
including multiple SQL queries in one worksheet
accessing additional databases, even with other database management systems than your JOOMLA database runs on
automatically create and deliver workbooks based on a sophisticated task scheduler
provide direct links to your workbooks with the jDBexport modules (both frontend and backend)
include any worksheets dynamically into any content with the datagrid plugin
and much more...
And there is virtually NO LIMIT to the complexity of your SQL queries. The SQL command SELECT has an enormous potential...
End of quick start guide
Copyright Schultz IT Solutions